Breast Augmentation Lift For Perkier, Larger Breasts
Breast implants can enhance your breast size. Dr. Kasrai can also give them a lift at the same time. She applies techniques that will achieve a long lasting improvement.
Your breasts have changed in size and shape over the past couple of years. They look flat and deflated. This is most likely because of massive weight loss, having children or simply from getting older. The current shape and size of your breasts is making you feel older and less feminine than you deserve to feel.
I can help you reclaim a fuller, perkier breast shape so that you'll look and feel better about yourself. A breast augmentation and breast lift enlarges your breast size while at the same time reshapes them for a perkier contour.
Unique point: correction that achieves natural-looking results
Most of my patients who undergo this procedure are mothers who want to reclaim the breast contour that they once had before having children. Like you, they want to have breasts that are as large and perky as they used to be. You may even want them to be a little larger, as long as they are proportionate in size with the rest of your body.

For this reason, it's important that your implants are chosen based on your current body measurements. That ensures you get the harmonious results you want.

-->
Unique point: aiming for results that you'll love for the long term
As a board certified plastic surgeon, it's extremely important that I achieve the results my patients want. It's also crucial that these results, and your satisfaction with them, are maintained for the long term, or even a lifetime. That's why I have patients who still express their satisfaction years after they've had surgery.
I'll help you select implants that will augment your breasts to a proportionate size as well as apply surgical techniques that give you long lasting results.
What will happen during your surgery
General anesthesia is administered. Your procedure will take two to three hours.
An incision is made around the areola and vertically down to the breast fold. For severe sagging, another incision horizontally in the breast fold may be made as well. The breast implants are placed into an implant pocket and excess tissue is removed to create the "lift". Any incisions made in the breast tissue are closed with layered stitches. Then, the incisions on the skin are closed with stitches, surgical tape or skin adhesive before dressing the treated area with bandages. A surgical bra over the bandages is also placed.
Your procedure may be single stage, or staged. This means that the lift and implant placement can be performed in one surgery, or separated into two surgeries. If the implant size selected is over 280CC then a staged approach would be safer and more effective for you. The lift would be performed on its own. A secondary surgery would be scheduled later for the breast augmentation. This allows for a more predictable outcome from your lift and a more natural and beautiful result from your breast augmentation. The wait time between these two surgeries is usually about four to six months, depending on your healing rate. Sometimes the lift is sufficient in achieving what the patient wants, making the breast augmentation unnecessary. In addition, a study published in Aesthetic Plastic Surgery found that in many cases, a simultaneous procedure may not be as effective as a staged one.
As a woman, you should have the freedom to choose what you want to do for reasons that are yours, not somebody else's. – Dr. Leila Kasrai
Recovering from your surgery
One week off for rest
Prominent swelling and bruising for a few weeks
Stitches removed after about two weeks
See your results in five to six months with proper recovery
Once you return home, you should rest. You'll need about one week off from work, or longer if your job is physically demanding.
Usually, the recovery period is most intense in the first three to five days after surgery. You won't be in much mood to do anything else but rest, which is what you'll need anyway at this point. Make sure to walk around the house every one in a while to minimize your risk of blood clot formation. Other than that, avoid exercise and heavy lifting. You should also refrain from making sudden, jerking movements with your arms, as this could compromise your recovery.
Some bruising, swelling, tenderness and pain are common symptoms that should gradually disappear with time. I'll prescribe oral pain medication to help ease your discomfort.
Please continue wearing your surgical bra for the period I advise.
You'll be able to get back to your regular routine gradually, and start exercising after about 6-8 weeks.
You'll be surprised at how much better you look, and feel
A breast lift can give you dramatic results. Coupled with a breast augmentation, you'll enjoy having the buoyant, firmer and larger breasts that you one had. The upper portion of your breasts won't be so flat against your body anymore, which means you'll have cleavage again!
Frequently asked questions about breast augmentation and breast lift surgery
What is augmentation and lift surgery?
An augmentation and lift, or augmentation mastopexy, is a procedure that makes the breasts perkier and larger. This can be done at the same time in a single surgery, or in two separate surgeries (known as staging).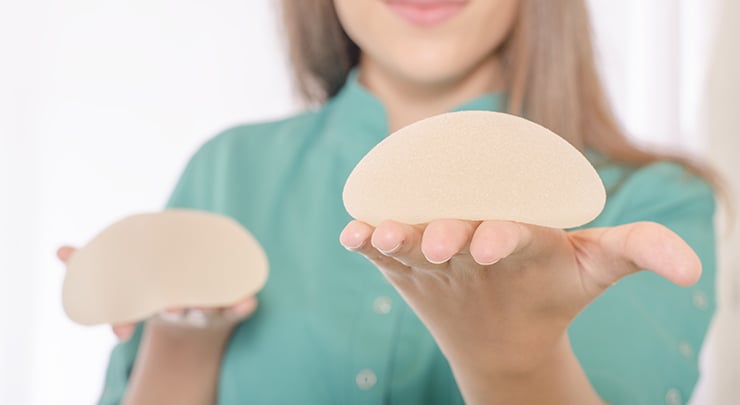 How will I know if I can have lift and implants done at the same time?
I perform the lift first then place the implants. If the implants are below 280CC, generally this can all be done in a single surgery. If they are larger, it is usually safer and more effective to do them separately, waiting a few months in between each procedure to allow your body to heal. Sometimes, patients choose not to proceed with their augmentation because they're satisfied with the results they got from their lift.
Will this improve my cleavage?
Cleavage can be improved with a lift and augmentation because upper pole fullness will be enhanced. However, cleavage really depends primarily on the amount of space you have between your breasts. If your breasts are naturally spaced far apart, no matter how perky and large your breasts become, your cleavage won't be as apparent as closely spaced breasts.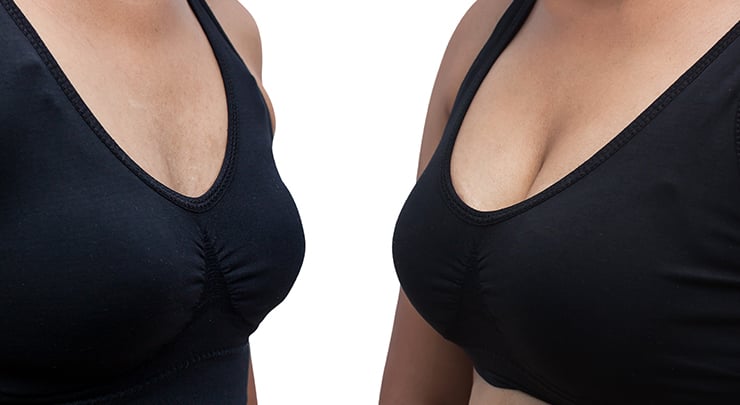 How will I look after surgery?
Your chest will be fuller and perkier, much like how they may have been in your youth.
Can I breastfeed after surgery?
Breastfeeding can be negatively affected by this surgery.
Where will my scars be?
This depends on the extent of your lift and the technique applied. Severe ptosis (sagging) will require a more extensive incision, resulting in scars that are around your areola, vertically down to your breast fold and horizontally within the breast fold. This is known as an anchor lift. Less scars for moderate ptosis will have the same scarring, minus the horizontal one in the inframammary fold.
Will this correct asymmetry?
Yes, this procedure can correct asymmetry in shape and size. More correction can be done on one side to even out the breasts. Different sized implants and shapes may also be used.
Risks
Although surgical complications are generally uncommon, there are certain risks associated with any surgery. I take every precaution to minimize any breast implant risks Toronto.
Infection
Seroma and hematoma
Excessive swelling, bruising and bleeding
Permanent changes in sensation — temporary changes generally disappear over the course of a year. A tingling in breast is indication of nerve regeneration.
Capsular contracture
Symmastia - when the implants are placed too close together in the hopes of improving cleavage of breast
Stretchmarks — this risk can be reduced by choosing the right breast size for your body.
Wound healing complications — these can increase the prominence of breast implant scars.
Implant rupture — some patients ask "Can a mammogram rupture a saline implant". The response to this question is that it is highly unlikely since manufacturers test the durability of breast implants by placing them under literally tons of pressure (far more than what a can mammogram deliver). Breast implant technology is designed to create a product that can withstand an amazing amount of pressure. However, despite this, you should know that breast implants aren't considered lifetime devices.
Capsular contracture is a complication where excessive scar tissue develops around the breast implant, to the point where the implant can become so compressed that the breast appears deformed. Does capsular contracture always get worse? The answer is no — mild capsular contracture doesn't always get worse. However, it is important that if you do notice any change in appearance or sensation of your breasts after breast augmentation, you inform your surgeon. A tightening and hardening of the affected breast is what capsular contracture feels like.
Be sure to follow all of the instructions I give you, both before and after surgery. This will help further minimize the risks associated with your breast enhancement and reduce the chances of a revision breast surgery and breast implant replacement surgery.